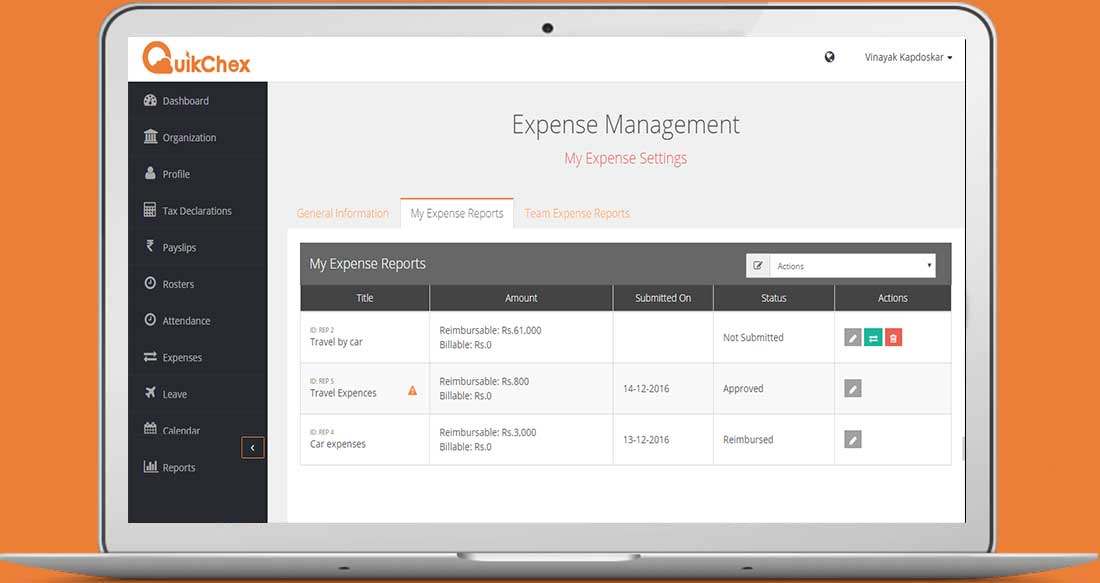 Employees can apply and view their Expense Claims through the Quikchex Expense Management Module
Through Quikchex's Expense Management System, employees can now manage and apply for new expense claims and view the status of these claims from their ESS portal. This helps them file their expense claims at their own convenience.
Accurately Report Expense Claims with Soft Copies of Receipts
With the expense management feature you can easily view all details of the expenses such as receipts and bills for a more transparent business process. With an easy upload feature, employees can upload the copies of their receipts while filing an expense claim.
Enforce Company Policies, Approval Limits and Other Business Rules Easily
With easy customizable options you can enforce company policies accordingly with multiple approvers and other rules and regulations for which you want your employees to adhere to.The Admin and HR team can set expense categories such as fuel, time and travel.  The Admin teams also have the ability to define rates to categories of fuel, distance or time. The easy customizable options make for the expense management module to be flexible enough for all organizations to use and rigid enough to ensure a transparent business process.
Apply, Approve and Reject all claims within a single click
The Quikchex Expense Management feature lets you apply multiple expenses or single expenses as well as approve and reject expense reports of all subordinates within a click of a button.
Track Expenses during a Client Visit & Bill your Clients for them
The Quikchex Expense Management feature has a billable option.For example: – if your client reimburses you for travel expenses, then you can record your travel expense as a billable expense.