Perks of using the Mobile Application of your HR & Payroll System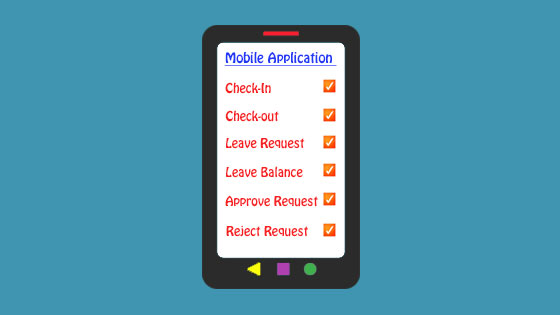 There are many Mobile Applications that are launched with different HR and Payroll software companies and are a real help to organizations. Mobile Applications are built to help companies track their employees attendance, leave and location through a click of a button.

A mobile application makes it very easy as it can be accessed from anywhere and anytime. Attendance and leave are crucial to any organization and that too can be tracked easily. Employees can be tracked even if they are in the most remote corners of the city. Mobile Applications help to make things simpler and faster for the employees and their reporting managers when it comes to HR and Payroll actives.
Here are the 4 perks of using the Mobile Application of your HR & Payroll System:
User Friendly
A smartphone is a device that every person uses every day and is easily accessible unlike a desktop or laptop. It is easy for all the employees to check-in, check-out, apply for leave and check their leave balances at a click of a button. Successful mobile apps have one thing in common which is that they benefit the users. If a user is going to spend time on your application, it has to offer value and has to be useful to them. A useful product meets a need that is not already being met in the market. It can be accessed from anywhere and you can view your profile anytime. It is comprehensive to understand and is available and compatible with all devices.
Attendance with Geo -Tracking
Every company will like to have accurate data of all their employees whether in the office or on field. Tracking the attendance of employees on field can get cumbersome that is why a mobile application is a must to solve this issue. An employee can check-in on their phone from any corner of the city and the data is captured and mapped accurately in the Mobile App. Employers will like to know from which place and at what time the employee has check-in or checked-out as all the companies want their employees to be productive without wasting time. Also, when the employees know that their attendance is being tracked they would be punctual with their timings.
Elaborate what is expected of the Employee
Keep at hand all the documents that support the employee's performance in the organization. Show him what was expected of him and what he has delivered. Reaffirm what is expected of the employee. Explain to him his job description once again and give him key points that will help him perform better. Tell him to get back with creative ideas that will help him meet his targets and discuss on the same. Offer him small training sessions and seminars to that will help him succeed.
Leave Tracking
Leave tracking is important to all organizations. A mobile application makes it easy for an employee to apply for leave at a click of a button. Once an employee submits a new time off request, the employee's manager will receive an automated email and he can easily approve or deny the request. Employees can view their leave balances across all leave types and holiday details from the Mobile Application. Employees can also check the status of their applied leaves.
Management becomes easy
Just like how all the employees can check their attendance and leave balance through the mobile application. Similarly, the supervisors and team leaders also can check their subordinate's attendance and can also receive notifications of leave request sent by their team members as well as approve or disapprove the same. A supervisor can also regularize an employee's attendance and apply leave on behalf of an employee. With all the information available online to employees as well as their managers, the leave system becomes all the more transparent and systematic.